Jacob Rodriguez reports at 9news.com, Denver's NBC affiliate, that "A bill in the Colorado Legislature that would effectively do away with the Electoral College as we know it has passed the state Senate and moves to the state House of Representatives," where Democrats hold a 41-24 majority. Rodriguez explains further:
The bill – SB 42 – would tie Colorado's Electoral College votes to the outcome of the national popular vote once enough states adopt similar laws. Once 270 electoral votes-worth of states join the movement, the president will be chosen by whoever receives the most votes nationally, according to the nonprofit National Popular Vote…Should Colorado approve this, 13 states representing 181 electoral votes would be in. However, the "National Popular Vote Interstate Compact" can't take effect until enough states sign on to equal the 270 electoral votes needed to become president.
Rodriguez notes that "Some of the other states that have approved similar legislation include California, Illinois, New York and Washington state."
So where might the National Popular Vote movement win over states with the the needed 89 electoral votes? In the map below, from nationalpopularvote.com, "each square represents one electoral vote (out of 538)."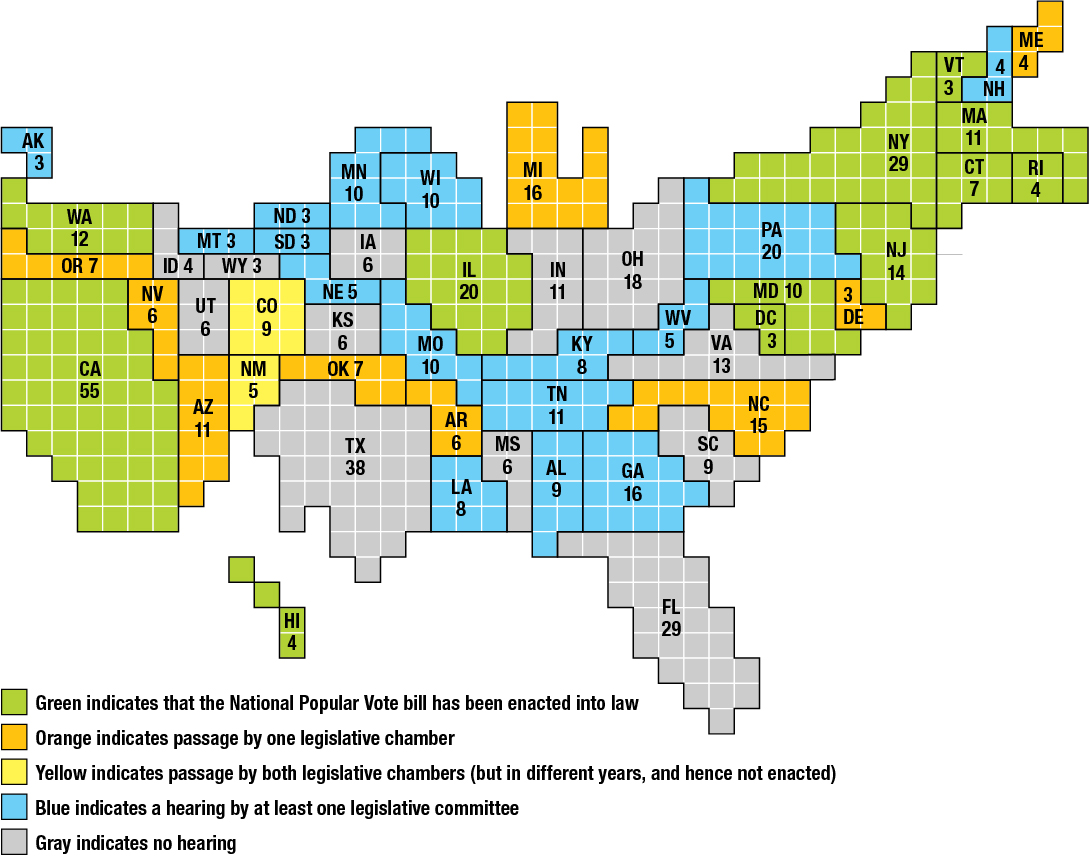 The National Popular Vote movement has received some bipartisan support in different states, but the most reliable supporters across the nation have been Democrats in the state legislatures. In the wake of the 2018 elections, some of the states most likely to enact the reform in the near future include MI, NC, PA and VA, which together would bring in states with 64 additional electoral votes. Since Republicans dominate Texas politics, Florida is clearly the most winnable of the big states, although it has a Republican governor.
Polls indicate that a substantial majority of voters in nearly all states support the reform. In Florida, for example, nationalpopularvote.com notes that,
A survey of 800 Florida voters conducted on January 9-10, 2009 showed 78% overall support for a national popular vote for President. By political affiliation, support for a national popular vote was 88% among Democrats, 68% among Republicans, and 76% among others. By gender, support for a national popular vote was 88% among women and 69% among men. By age, support for a national popular vote was 79% among 18-29 year olds, 78% among 30-45 year olds, 76% among 46-65 year olds, and 80% for those older than 65. By race, support for a national popular vote was 80% among whites (representing 70% of respondents), 69% among African Americans (representing 13% of respondents), 79% among Hispanics (representing 13% of respondents), and 72% among others (representing 4% of respondents). The survey had a margin of error of plus or minus 3 1/2%.
For a guide to citizen action to support the reform in every state, click here.